---
As he once again prepares to dig his vehicle out of a salt marsh, this trooper wears a pair of lightweight soiled Denims* or coveralls.
Denims were work or fatigue uniforms made of light weight cotton drill material. The patterns varied based based on a number of conditions (place of manufacture, type of unit, etc.) The main purpose of coveralls were to protect your uniform from dirt and grime.
Many members of the LRDG used coveralls for everyday wear as well as when working on vehicles. Coveralls were normally either green or tan but were sometimes dyed black for use in night raids. Being made of cotton, they were not as warm as the Wool Battle Dress (BD) uniform but were warmer than the lighter weight Khaki Drill.
The coveralls in this example are a lightweight set of Tanker coveralls manufactured in India for use in the Royal Tank Regiments of the 8th Army. They have the distinctive cargo pocket as found on the the BD uniform. Other patterns of tankers' Denims had no cargo pockets while still others had one on each hip as well as large breast pockets.
The trooper has a very light beard and is wearing his beret with the distinctive LRDG badge which suggests he may be on a training mission and not on an actual patrol.
* While coveralls were often called "Denims" because of the material used in manufacture, the British Army also issued a two piece denim uniform cut in the pattern of the BD uniform.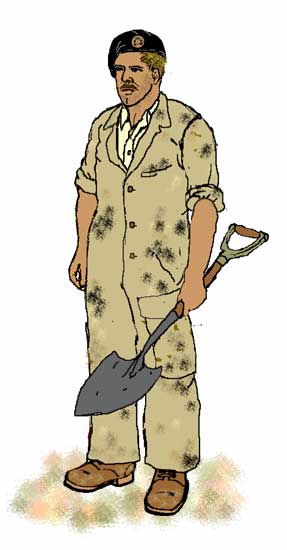 Updated on Sun, 02/06/2022 - 22:20.