The exploits Long Range Desert Group were honored in a British made movie in 1958. This is the often overlooked war drama, Sea of Sand. Since then several "Private Army" movies and a TV show have been produced that were inspired by LRDG operations.
Many of these private army movies suffer from some of Hollywood's worst cliches:
The hand picked volunteers are not always the cream of crop. In some instances the men come from the criminal class.
Some how a female lead will be worked into the formula.
The mission could change the entire course of the war
Someone is a double agent
Patton & Walker Bulldogs Tanks, White Halftracks, and other modern/wrong equipment used as substitutes.
Thin plot supported by lots of boom and high body counts. Everything is a suicide mission.
Despite the cliches, several are worth watching. The review scores are from the Internet Movie Database, which rate movies one through ten stars. With the exception of Sea of Sand which probably deserves to rank a little higher, I feel the ratings are deserved.
Have a comment? Please go to the Rally Point to suggest other LRDG movies or to comment on the movies listed below.
Sea of Sand [Desert Patrol, U.S. Title] (1958)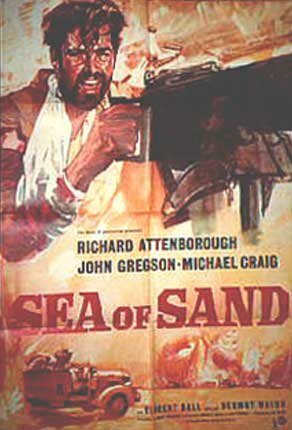 Directed by: Guy Green
Writing credits: Robert Westerby
Cast includes:
Richard Attenborough .... Brody
Vincent Ball .... Sgt. Nesbitt
Michael Craig .... Capt,. Cotton
Andrew Faulds .... Sgt. Parker
John Gregson .... Capt. Williams
IMDB Rating: 6.3/10 (42 votes)
An actual movie about the LRDG. (Unfortunately it is in Black & White, Fortunately it avoids the cliches!)
A team of British sappers are attached to an LRDG patrol being sent to destroy a German petrol dump. Being made in 1958 saves the movie from the worst of the cliches mentioned above.
Bill Kennedy Shaw (LRDG Intelligence Officer) was sought as a technical advisor as thanks to his efforts many of the technical aspects of the movie were worked out.
The movie makes a good attempt at recreating the Chevy trucks used by the LRDG and was filmed in the actual area where they operated. A good story line and decent acting eclipse minor problems due more to budget restrictions than anything else. Definitely worth a look if you can find it! (Thanks Jack!)
Tobruk (1967)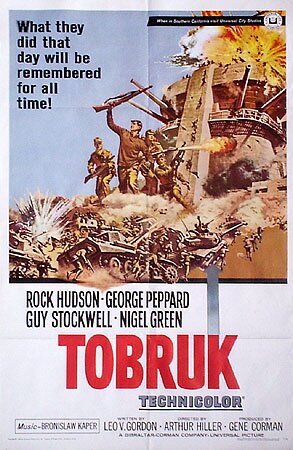 Directed by: Arthur Hiller
Writing credits: Leo Gordon
Cast includes:
Rock Hudson .... Maj. Donald Craig
George Peppard .... Capt. Kurt Bergman
Nigel Green .... Col. John Harker
Guy Stockwell .... Lt. Max Mohnfeld
IMDB Rating: 5.9/10 (233 votes)
This is Hollywood's version of the Ill fated Tobruk Raid planned by John Haselden. The raid concentrates more on the commandos and the SIG involvement.
Could have been better, could have been the Barce Raid. I guess George Peppard is David Lloyd Owen, however he's part of the SIG. Nigel Green I think is suppose to be the John Haselden character. Fun but lacking in so many ways.
Play Dirty (1968)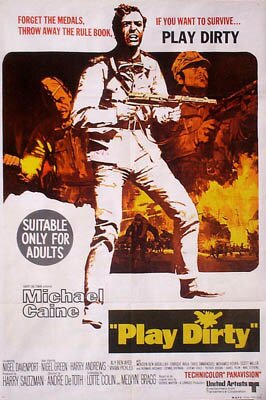 Directed by: André De Toth
Writing credits: Melvyn Bragg, Lotte Colin
Cast includes:
Michael Caine .... Capt. Douglas
Nigel Davenport .... Capt. Cyril Leech
Nigel Green .... Col. Masters
IMDB Rating: 6.3/10 (183 votes)
Imagine the movie Tobruk with a gritty edge to it. The beginning scene with Caine in his jeep listening to the German broadcast of Lilli Marlene gives you hope that the movie is going to be a better than average for a 60s war movie. It is better than many such movies but has several flaws. Better than Tobruk but not as good as Sea of Sand.
Raid on Rommel (1971)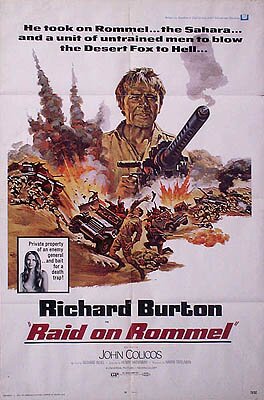 Directed by: Henry Hathaway
Writing credits: Richard M. Bluel
Cast Includes:
Richard Burton .... Capt. Alex Foster
John Colicos .... Sgt. Maj. Allan MacKenzie
Clinton Greyn .... Maj. Hugh Tarkington
Wolfgang Preiss .... Gen. Erwin Rommel
IMDB Rating: 5.0/10 (173 votes)
What?!? No Nigel Green? Third rate version of the second rate Tobruk
The Guns of Navarone (1961)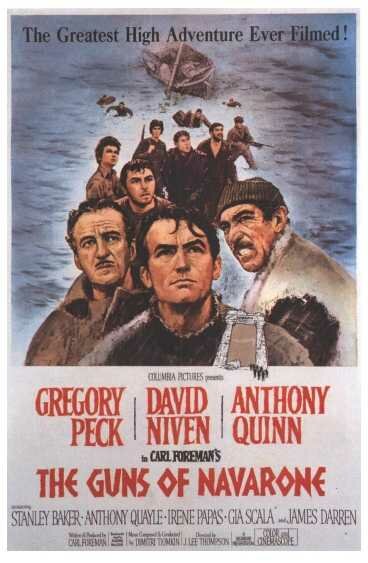 Directed by: J. Lee Thompson
Writing credits: Alistair MacLean, Carl Foreman
Cast includes:
Gregory Peck .... Capt. Keith Mallory
David Niven .... Cpl. John Anthony Miller
Anthony Quinn .... Col. Andrea Stavros
IMDB Rating: 7.6/10 (5,164 votes)
It's been a long time since I've seen the Guns of Navarone. The book by Alistair MacLean was supposedly based on an actual LRDG raid somewhere in the islands near Greece.
Force 10 from Navarone (1978)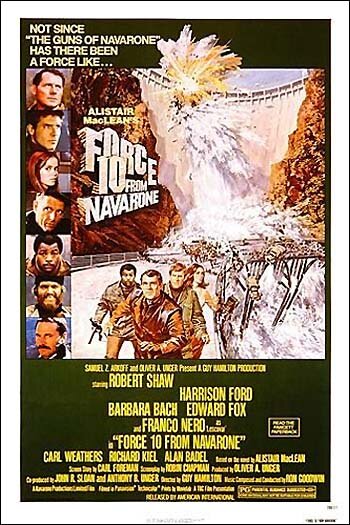 Directed by: Guy Hamilton
Writing credits: Robin Chapman, Carl Foreman
Cast includes:
Robert Shaw .... Maj. Keith Mallory
Harrison Ford .... Lieutenant Colonel Mike Barnsby
Barbara Bach .... Maritza Petrovich
Edward Fox .... SSgt. Dusty Miller
Franco Nero .... Capt. Nikolai Leskovar
IMDB Rating: 5.9/10 (2,283 votes)
Has every Hollywood cliche imaginable, including the requisite African American and race issues. Fun action movie.
When Lloyd Owen proposed a new mission for the LRDG he mentioned the concept of training the partisans and assisting them in the fight for their homelands. This mission begins in Italy (the HQ for the LRDG when operating in Greece and Yugoslavia) and has the team air dropping into Yugoslavia where they meet up with the partisans, who don't trust them. Eventually they start working with the partisans and the four commandos of Force 10 save the day.
The Rat Patrol (TV Show 1966-68)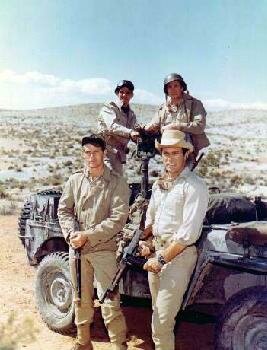 Created by: Tom Gries
Cast Includes:
Christopher George .... Sgt. Sam Troy
Gary Raymond .... Sgt. Jack Moffitt
Lawrence P. Casey .... Pvt. Mark Hitchcock
Justin Tarr .... Pvt. Tully Pettigrew
Eric Braeden .... Capt. Hauptman Hans Dietrich (1966-1968) (as Hans Gudegast)
58 episodes, 30 minutes each original running time.
4 men, 2 jeeps, vs. the entire Afrika Korps, 30 minutes at a time. The Jeeps remain OD. Filmed in Spain. Has lots of shoot 'em up but let's face it, you can't knock out every tank and half track with an M2 machinegun. Also, we all know the American were not the ones doing these raids. Some sources say the series was inspired by the book "Popski's Private Army".
Updated on Tue, 02/08/2022 - 22:26.