By MELISSA EDDY, Associated Press Writer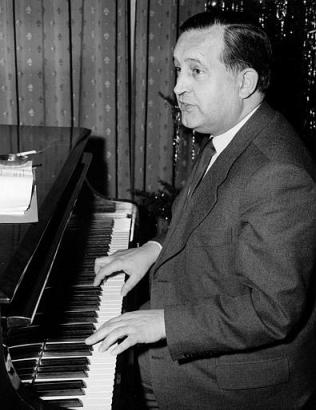 FRANKFURT, Germany (AP) - German composer Norbert Schultze, whose song Lili Marleen struck a chord with World War II soldiers fighting on fronts from Europe to Asia, has died, his publisher said Tuesday. He was 91.
Schultze died on Oct. 14 in Bad Toelz, near Munich, said Nicola Gilles, a spokeswoman for Schott music publishers. The cause of death was not known. Born in Braunschweig in 1911, Schultze studied music theory and theater in Cologne and Munich before beginning his career as a theater music director in the university city of Heidelberg.
He began writing songs and several children's musicals in the 1930s which were successful, but never wildly popular.
In 1938, he set to music the words of a World War I-era poem by Hans Leip about a soldier who is called to the front, leaving behind his sweetheart who waits for him in the lamplight. It sold only several hundred copies.
Three years later, a version of the song, recorded by Lale Anderson, was broadcast from a German radio station in occupied Belgrade, Yugoslavia to forces in North Africa. It was an instant hit with the soldiers.
Although the Nazis banned the song, it spread like wildfire through barracks, hospitals and bunkers on both sides of the front ‹ where ever there were lonely soldiers longing for their left-behind lovers.
British commanders reportedly hated hearing their troops singing the German version of the song and hired a lyricist to compose an English version of "Lili Marleen," that first aired on the BBC in 1944.
The song was translated into about 30 languages and was performed by countless singers, including Marlene Dietrich, Edith Piaf and Greta Garbo.
Yet Schultze, who wrote a book in 1996 titled, "With you, Lili Marleen" never considered the song his greatest work and was often plagued by its enormous success.
"When I hear it today, I don't have the feeling that it is from me," the Monday edition of Berlin's Tagesspiegel daily quoted him as saying in 1996. "Musically, I had bad luck."
Throughout World War II, Schultze composed scores for Nazi films, which discredited him in his homeland for several years after the end of the war and left him able to find work only as a gardener. He later apologized for supporting Hitler's regime.
By 1950, he was again composing musicals for children, such as "The Snow Queen" and operettas including "The Rain in Paris," as well as music for nearly 50 films.
Schultze is survived by his wife, Iwa Wanja, and five children.
Updated on Tue, 02/08/2022 - 10:12.